We create Nordic marine collagen products that help support a happy and healthy lifestyle. The just björn difference? High-quality natural ingredients that are sustainably sourced and are better for YOU and better for the planet!
Feel and B your best
Collagen is the most abundant protein in our bodies and it is the primary structural protein found in our connective tissue. It is found mostly in fibrous tissues such as tendons, ligaments and skin. Natural collagen production starts to decline in our mid twenties and it depletes more rapidly as we age. This is where just björn comes in.
just björn uses hydrolyzed collagen peptide protein powder from wild caught cod found in pristine North Atlantic and Arctic waters. This all-natural collagen supports the production of proteins in your body that promote recovery, help maintain the cartilage that protects your joints and improve skin elasticity.
Learn More About Marine Collagen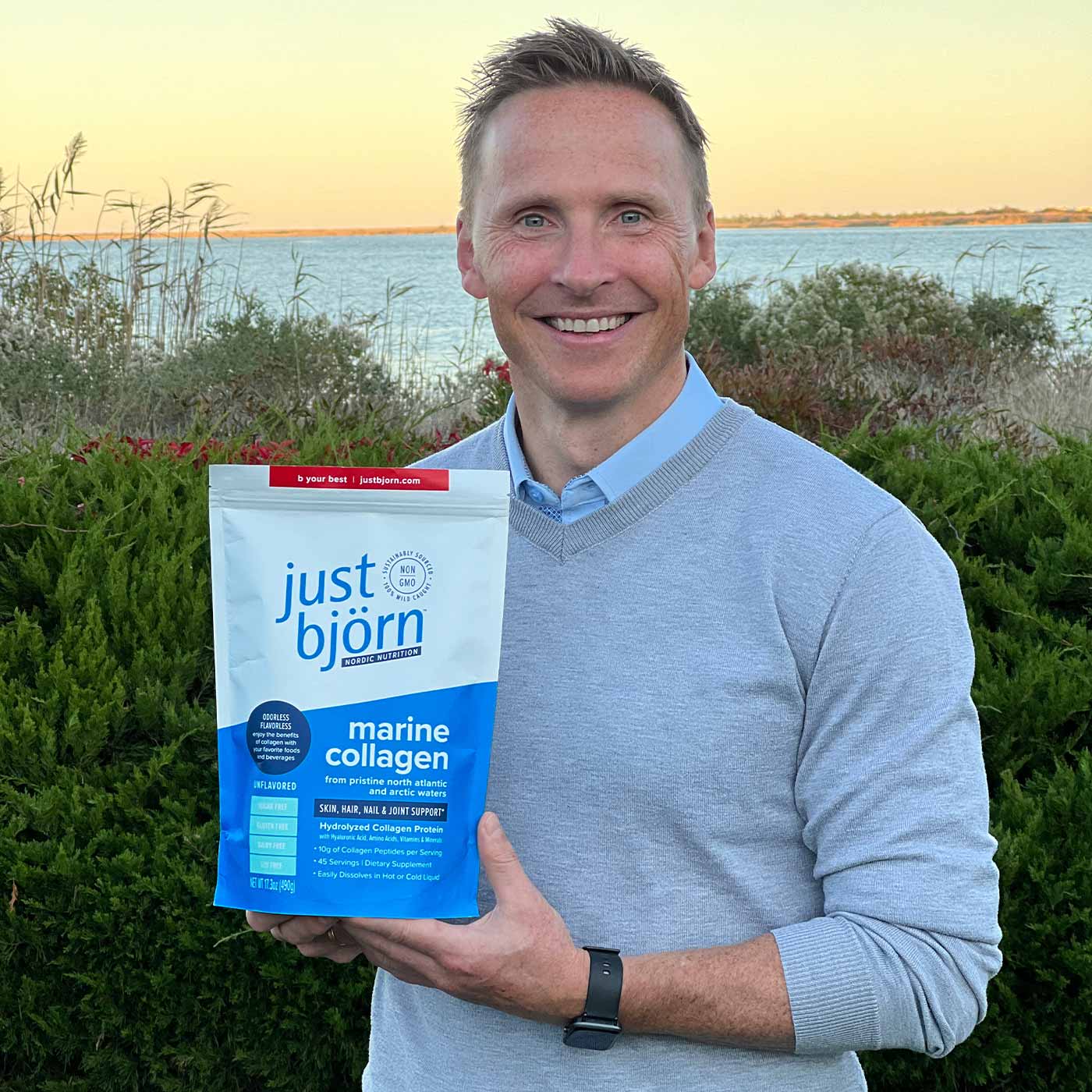 Meet Björn
Founder, Chef & Nutritionist
As an athlete, workout enthusiast and chef, I've always been focused on a healthy and active lifestyle. Growing up in Grindavík, Iceland, a fishing village located just below the Arctic Circle, I was familiar with marine collagen but when I sustained an injury as a semi-pro soccer player, collagen helped me in my recovery process, to heal faster and feel my best. Years later, I went on to study nutrition to optimize my health and trained in New York as a chef so I could make performance nutrition a delicious and sustainable part of my family's lifestyle.
On the search for the right collagen, I noticed many were loaded with fillers and sweeteners that outweighed the benefits of the supplements themselves. All of this inspired me to create just björn. By incorporating collagen into my diet on a regular basis, I've experienced many benefits of this powerful superfood and was able to transform my health and lifestyle. I hope it helps you as much as it has helped me!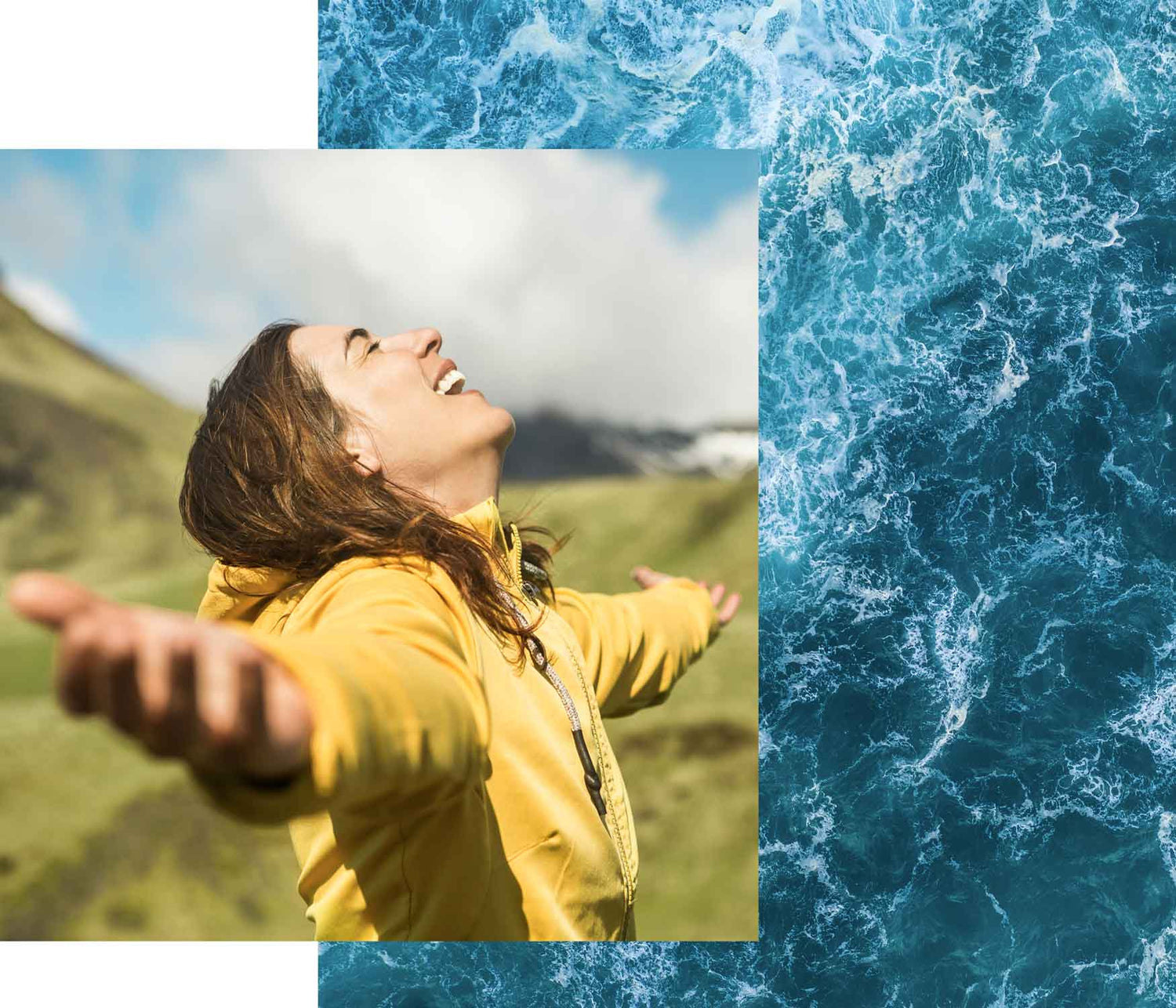 We care about people and the planet
We've incorporated just björn as a public benefit corporation because we believe that companies have a responsibility to care for people and the planet, and to think beyond profit. Our values guide our goals–to care deeply about the welfare of our employees, to make a positive impact on the community and the environment, and to focus on education and equality.
Our Purpose
We exist to help you b your best.
We're taking a different path
Today, the largest source of collagen comes from cattle (38%), which places a huge environmental strain on the planet in the form of greenhouse gas emissions. This is in addition to the farming techniques that require the use of antibiotics to stem the spread of disease and growth hormones to increase productivity.
By contrast, just björn collagen is made from the skin of cod caught from deep water fish schools in their natural habitat, without exposure to harmful antibiotics and hormones. The skin, formerly discarded, it is now part of the circular economy, eliminating food waste and working with Mother Nature — from waste to value to wellness. just björn collagen is of the highest quality, sourced from the North Atlantic and Arctic regions, well-known for their pristine waters and the purity of natural resources.
Purpose with principles

We are dedicated to doing our best so that you can b your best.

B – Benefit: We want our products to benefit your health and we are incorporated as a public benefit corporation because we care for our people and our planet.

E – Equality: In our company everyone is respected equally— our employees, our customers and our suppliers. As a business, we respect people of all genders, races abilities and beliefs.

S – Sustainability: We will not compromise the well being of future generations or our planet to satisfy our present needs.

T – Transparency: We will always tell the truth and we will be open, honest and straightforward about our operations, products and business practices.

Environmental – Social – Governance

We will act responsibly in accordance with ESG Standards.

E – Environmental: We are a public benefit corporation. We believe in a circular economy and are focused on best practices for sustainability.

S – Social: We will dedicate 1% or our profits to support nutrition and wellbeing of people in need.

G – Governance: We are committed to gender equality and inclusion in every aspect of our business.
Sustainability
ethically sourced with pristine ingredients
just björn is made from cod caught from deep water fish schools in their natural habitats, making our collagen protected from direct exposure to harmful antibiotics and hormones.
BIOAVAILABILITY
collagen that is more easily absorbed
Marine collagen, due to its smaller particle sizes, is absorbed more efficiently into the body than other sources of collagen so you gain maximum benefit, faster.
Eco-friendly
minimizing impact on the environment
We are doing our best to minimize packaging by using less plastic than conventional tubs and employing recycled and recyclable materials whenever possible. Environmentally conscious efforts are an ongoing mission for us.
Certifications

iso/fssc 22000 certified

FSSC 22000 certifies the food, feed and packaging safety systems of companies in the food chain that process or manufacture animal products, perishable vegetable products, products with a long shelf life and other food ingredients like additives, vitamins and bio-cultures. Our state-of-the-art production processes guarantee the highest levels of production safety and efficiency.

Certifications

IRN/MUI HAS 23000 certified

IRN and MUI HAS 23000 certifies that all production in this facility has been certified to be halal in accordance with Sharia law of halal and haram. It's devoid of any impermissible ingredients, and that it has been processed in a facility that is conducive to maintaining the integrity of the halal status. 

Certifications

kosher certified

Kosher certification is the stamp of kosher approval by a rabbinic agency verifying they have checked the products ingredients, production facility and actual production to ensure all ingredients, derivatives, tools, and machinery have no trace of non-kosher substances.