On-The-Go Stick Packs
with Hyaluronic Acid, Amino Acids, Vitamins & Minerals
Regular price
$25.00
Sale price
$20.00
Unit price
per
Sale
Sold out
Our travel size marine collagen peptide stick packs provide the perfect one serving nutrition boost. Keep them in your desk, bag, or pocket so they are handy wherever you go! Each box contains 10 on-the-go stick packs (10 servings).
Provides 10g of collagen per serving and is odorless, flavorless and ultra fine
Type 1 marine collagen sustainably sourced from pristine North Atlantic and Arctic waters
Hyaluronic Acid and Vitamin C provides additional benefits
No gluten, dairy, soy, preservatives, sugar, artificial sweetener, artificial flavor or artificial color
Collagen helps support*
Skin Health and Elasticity
Hair and Nail Health
Bone and Joint Health
Digestion and Gut Health
Increased Energy
Plus the benefits of
Hyaluronic Acid: Assists in supporting skin hydration and elasticity*
Vitamin C: A powerful antioxidant necessary for the growth, development and repair of all body tissues
Amino Acids: Contains 20 amino acids, including 8 out of 9 essential amino acids that are vital for functions throughout the body, including protein synthesis, tissue repair, and nutrient absorption
Directions: Combine 1 scoop per serving with your favorite food or beverage and mix thoroughly. For best results, use daily. Store in a cool, dry place.

Notice: Use this product as a food supplement only. Do not use for weight reduction. If you are pregnant, nursing or have a medical condition, consult your physician before use.
Supplement Facts
Serving Size: 1 Scoop (10.9g)
Servings Per Container: 45
Amount Per Serving
% Daily Value*
Calories
40
Protein
10g
0%*
Vitamin C
(as Ascorbic Acid)
48mg
53%*
Calcium
(as Calcium Citrate)
50mg
4%*
Fish Collagen Peptides
10.5g
**
Hyaluronic Acid
(as Sodium Hyaluronate)
53mg
4%*
* Percent Daily Values (DV) are based on a 2,000 calorie diet
** Daily Value not established
Amino Acid Profile
(Average milligrams per serving)
| | | | |
| --- | --- | --- | --- |
| Alanine | 1,100 mg | Lysine** | 392 mg |
| Arginine | 828 mg | Methionine** | 174 mg |
| Aspartic Acid | 621 mg | Phenylalanine** | 196 mg |
| Cysteine | 10 mg | Proline | 1,329 mg |
| Glutamic Acid | 1,133 mg | Serine | 403 mg |
| Glycine | 2,507 mg | Taurine | 10 mg |
| Histidine** | 119 mg | Threonine** | 327 mg |
| Hydroxylysine | 763 mg | Tryptophan** | 0 mg |
| Hydroxyproline | 1,166 mg | Tyrosine | 87 mg |
| Isoleucine** | 152 mg | Valine** | 250 mg |
| Leucine** | 305 mg | | |
**Essential Amino Acids.
Contains 8 of 9 Essential Amino Acids
Produced in a facility that also processes soy, fish, shellfish, milk, peanuts, tree nuts, wheat, and eggs.
you may also like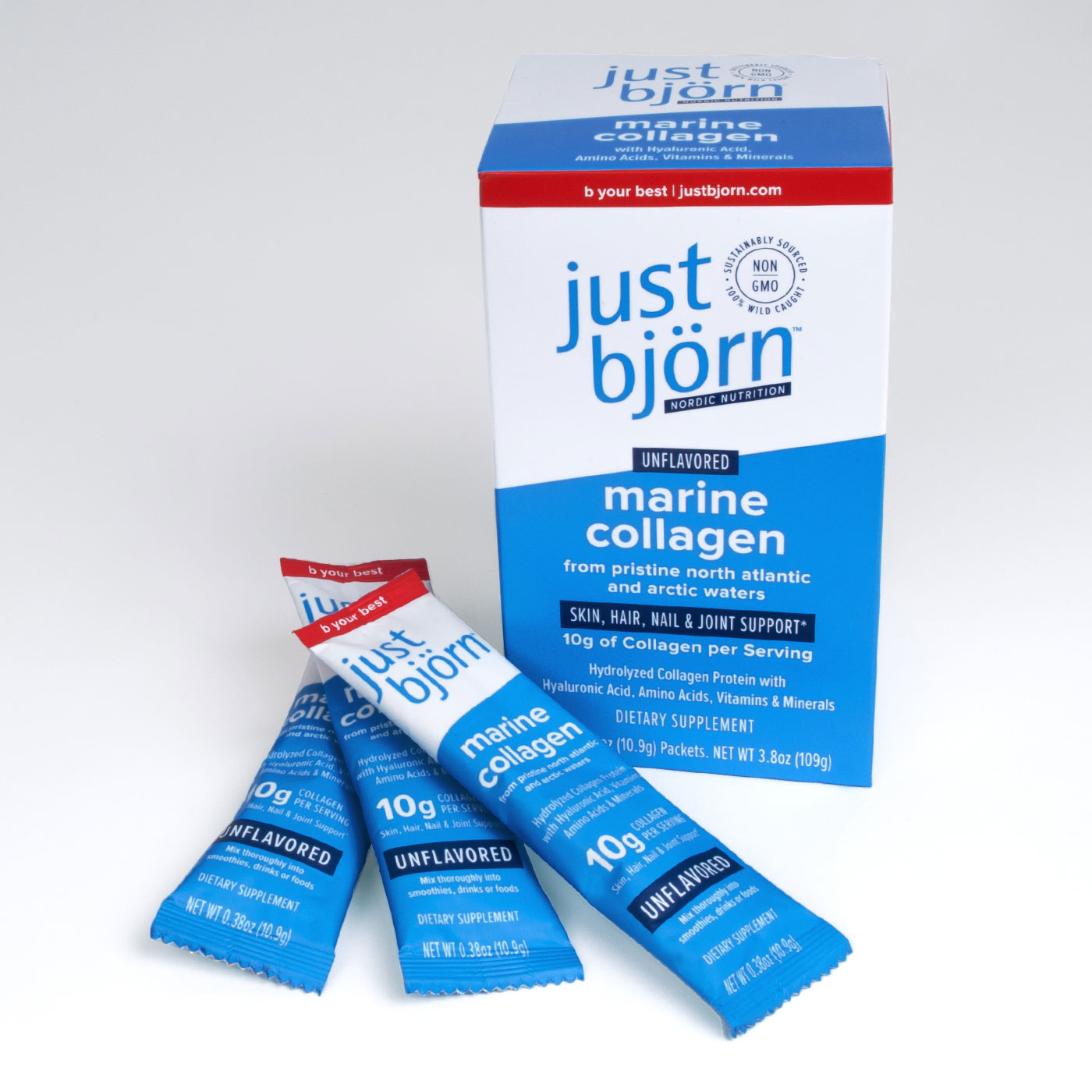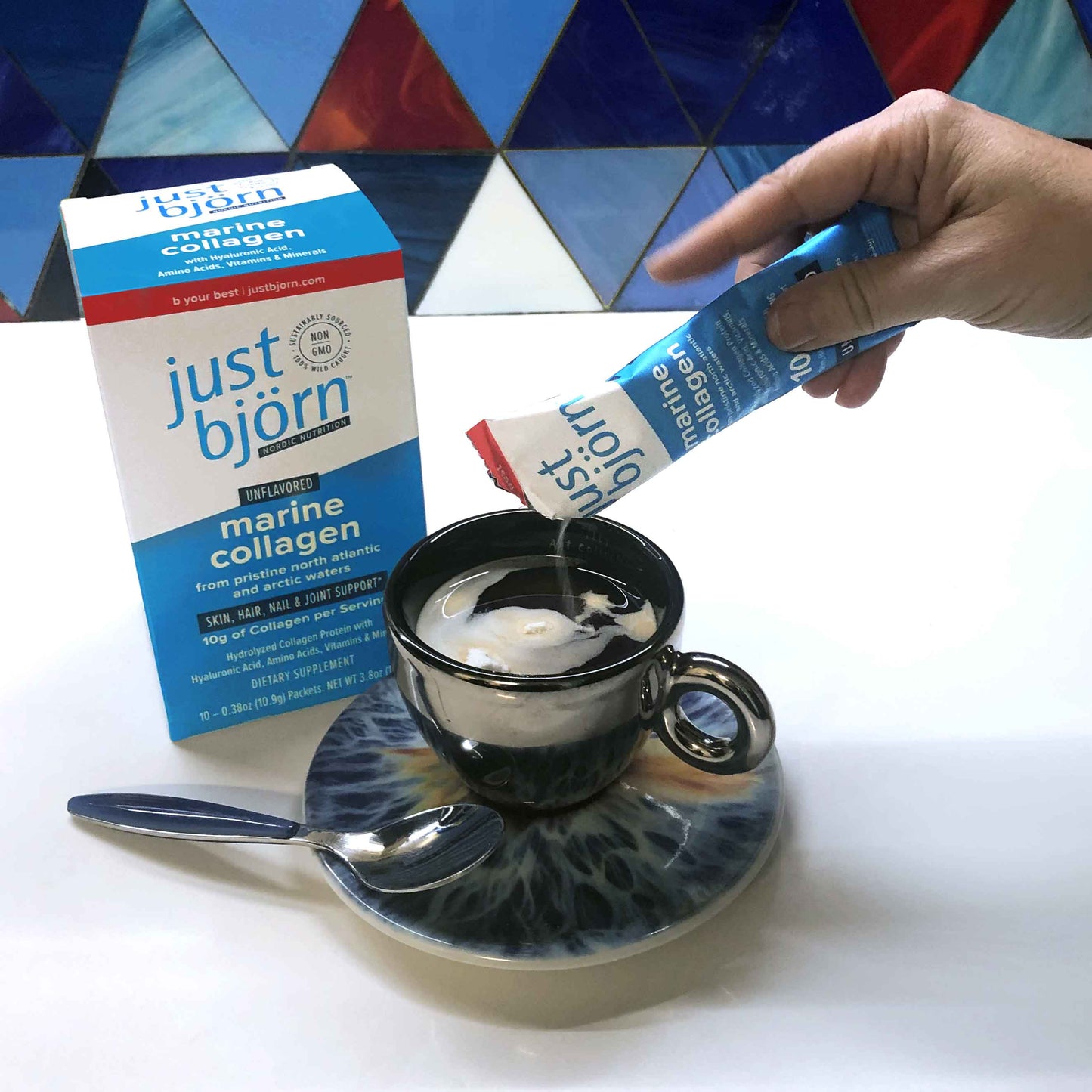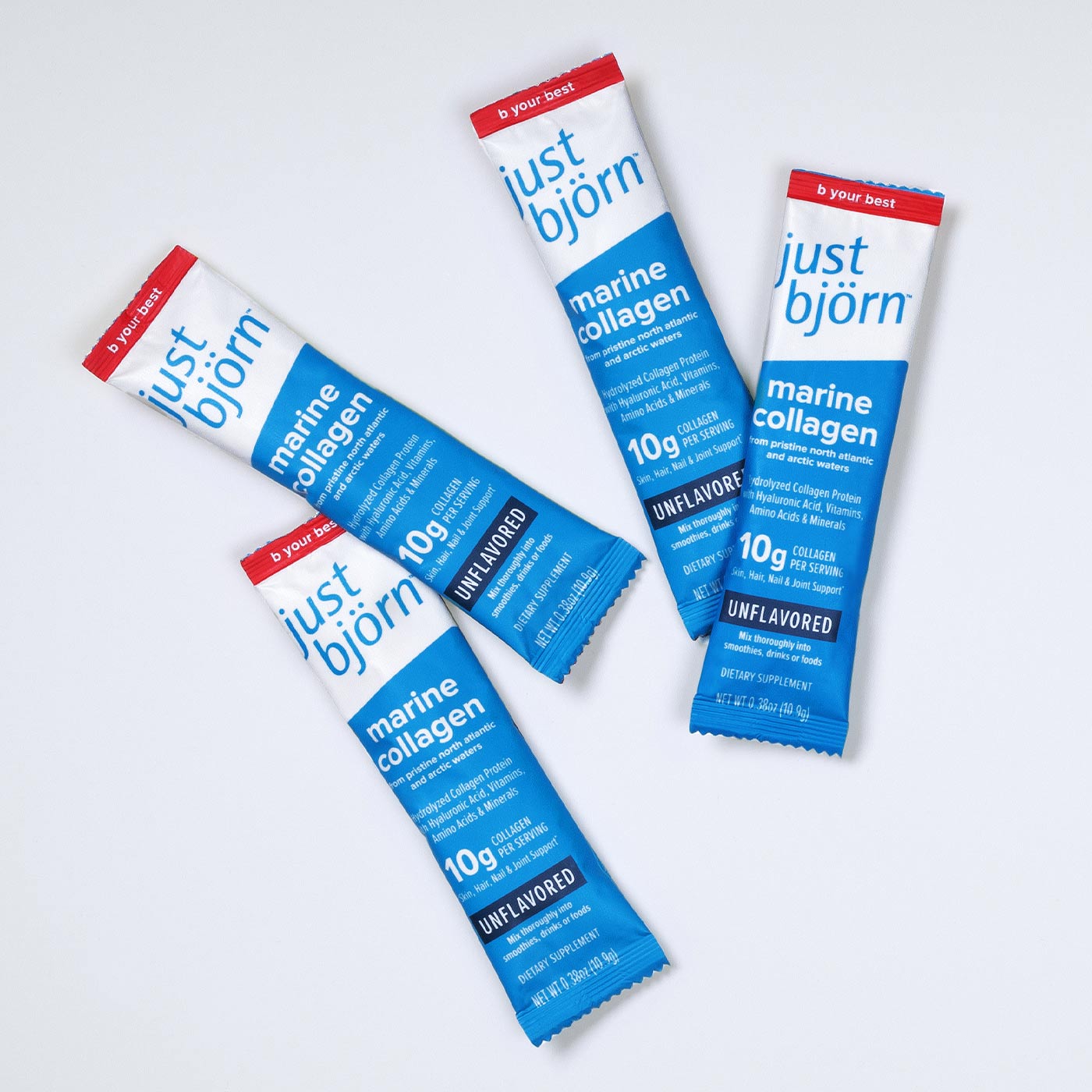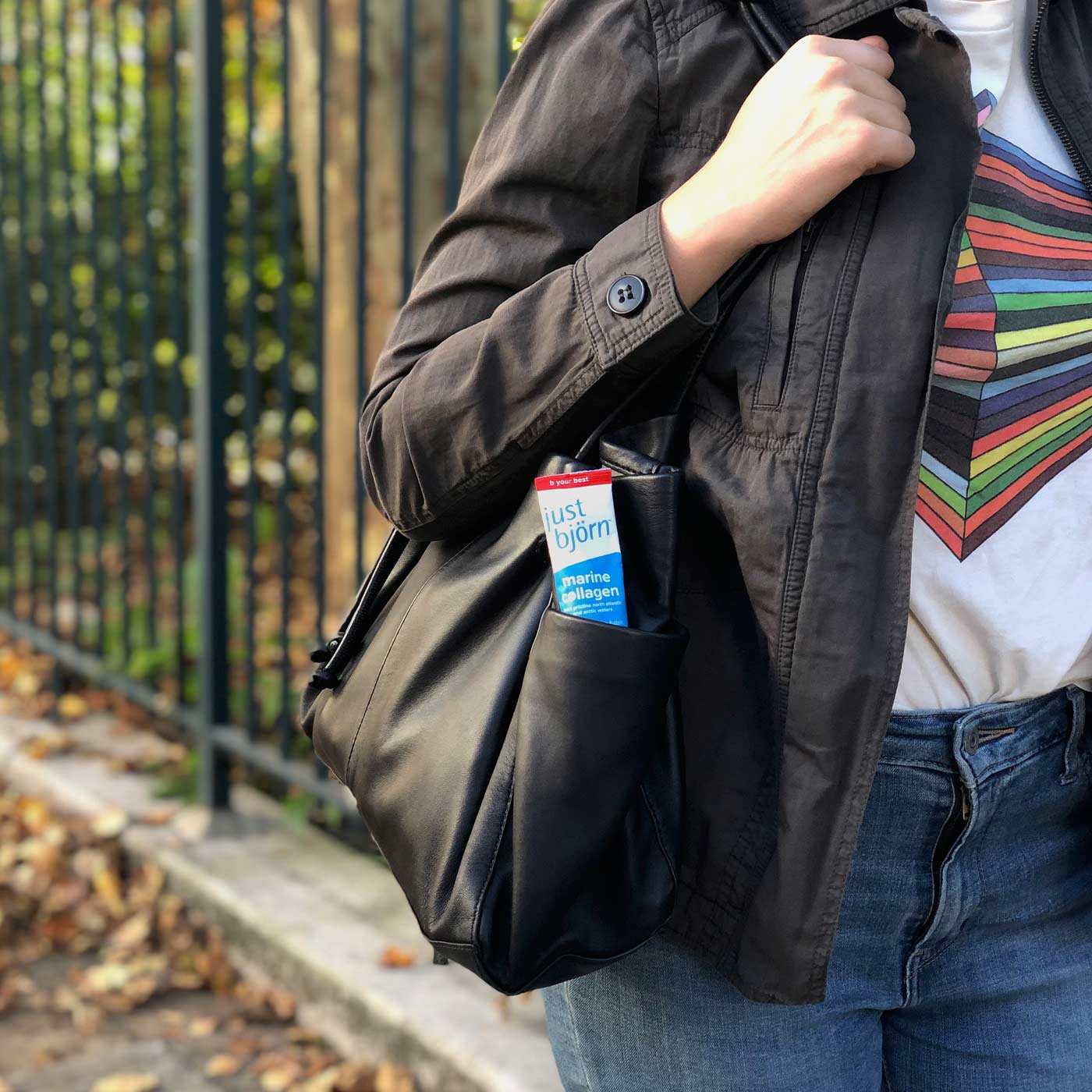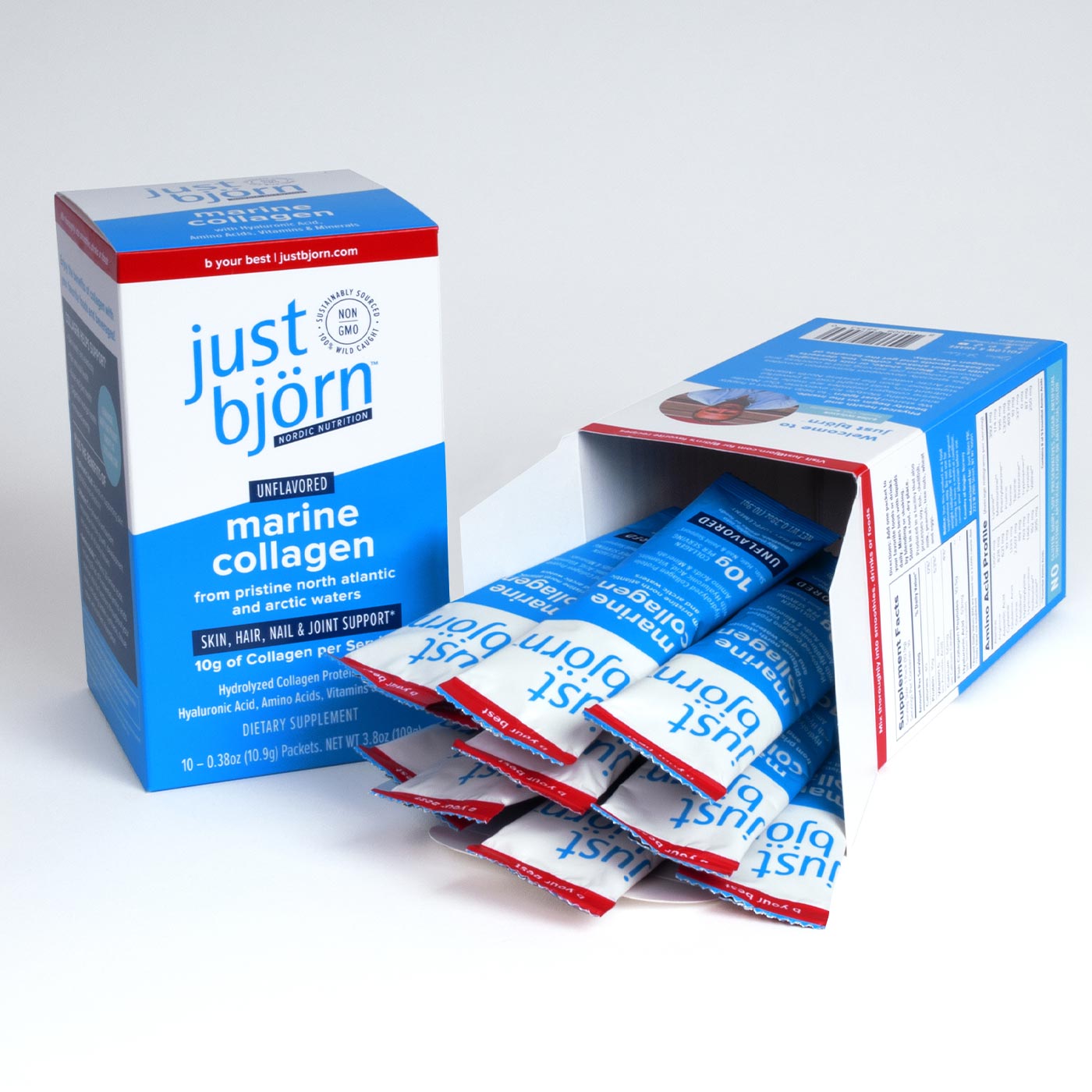 The benefits of collagen
physical health and beauty begin on the inside
Skin Health and Elasticity

Rejuvenate, hydrate and restore your skin

Collagen helps support the skin by restoring the skin's moisture, improving the elasticity, tone, and vibrancy. Collagen with the addition of Hyaluronic Acid, helps to slow signs of aging by keeping the skin hydrated, which helps prevent wrinkles.

Hair and Nail Health

Promote nail & hair growth and strength

The benefits of collagen for nails include hydrating the nailbed and cuticles and improving brittle nails by replenishing amino acids that helps nails grow longer, quicker, and stronger. Collagen has also been shown to increase the body's hair building proteins, which can result in longer, thicker hair.

Bone and Joint Health

Help maintain the cartilage that protects joints

Our bones are made primarily of collagen and our body's natural collagen helps to protect joints, so when collagen production decreases, bones weaken, and the likelihood of developing joint issues and fractures increases. Adding collagen to your daily routine provides your body with the boost it needs to help protect your joints.

Digestion and Gut Health

Support digestion and a healthy gut

Collagen contains the amino acids glycine, glutamine, and proline, which can be incredibly beneficial to the stomach and maintaining a strong digestive tract. These amino acids help rebuild tissue in the protective lining of the digestive tract which is extremely important for the prevention of a condition known as "leaky gut."

Increased Energy

Help in improving energy and metabolism

Collagen is a great source of the amino acids we need to maintain healthy hormone levels. It contains Glycine, a powerful inhibitory neurotransmitter, which stimulates the production of serotonin, the "feel-good" hormone shown to reduce anxiety and improve sleep quality—helping to boost metabolism and energy levels.
Björn's favorite recipes
get motivated and live a healthier lifestyle